Last week the hubs and I got a second six drawer dresser.  I couldn't manage to get a decent photograph to prove it to you because the way it's positioned in the room makes it nearly impossible to photograph.  Plus it's a dresser.  It's not very exciting.
But for the sake of pleasing the masses (Mom and Dad) a stock photo of our [first and SECOND] six drawer dresser.
We'd been severely short on clothing storage considering we share a single door closet and a six drawer dresser.  And of those six drawers the hubs had four.  That's right, four sixths, two thirds, THE MAJORITY OF THE DRAWERS.  He claimed his clothes were bigger.  I claimed I had more.
When we got the new dresser we got rid of my lingerie dresser and matching nightstands.  The hubs sold them on Craig's List in record time and next thing I know my clock is sitting on the floor.
Thanks.
We found ourselves facing "The Nightstand Situation".  I had first heard about ridiculous nightstand practices over on my friend Sarah's blog Decorate This.  She claimed that finding matching nightstands that didn't break the bank was near impossible.  A couple of months later I found myself agreeing with her hypothesis.
The hubs and I instantly fell in love with these beauties from Crate and Barrel: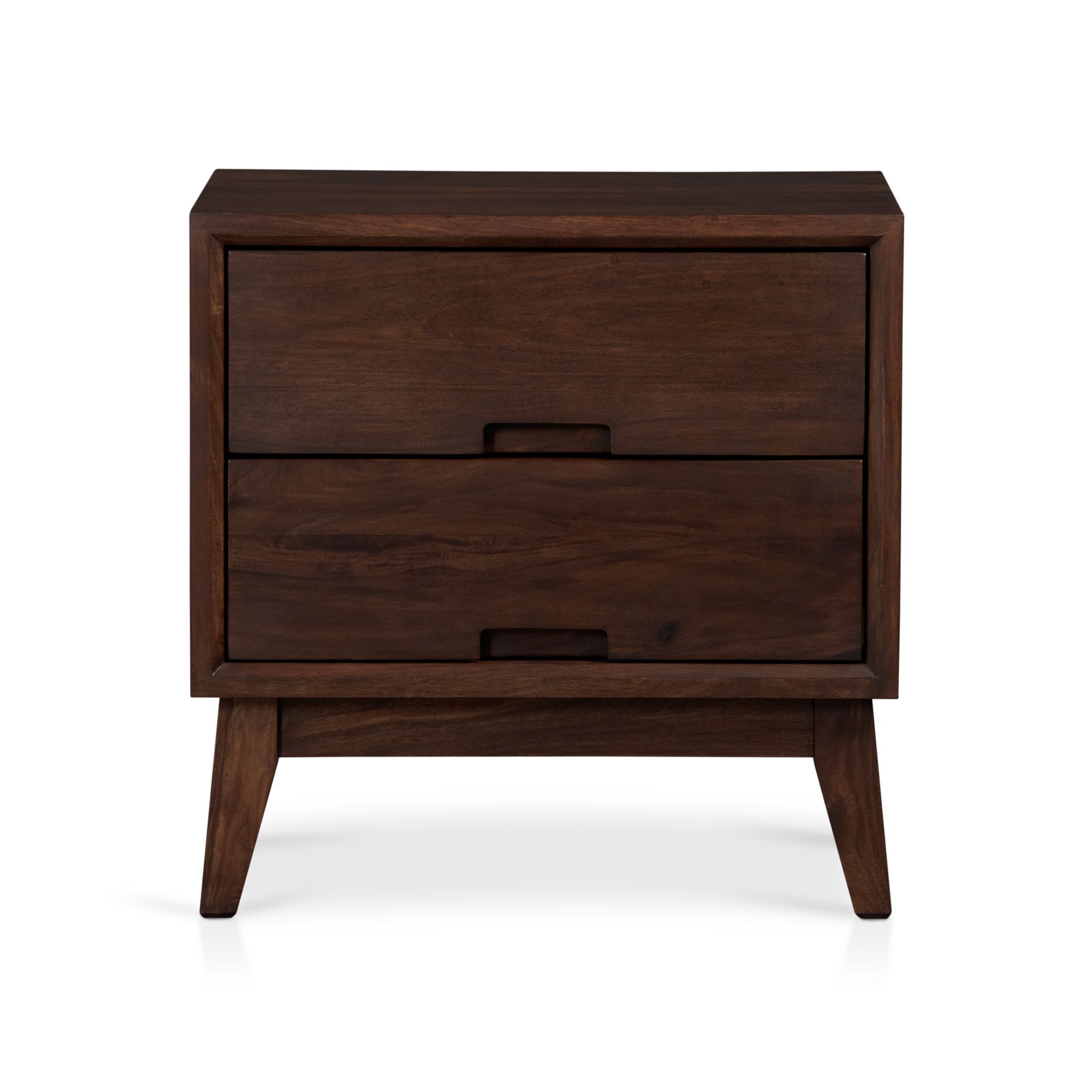 Problem #1: The cost $450 A PIECE
Problem #2: They're 22 inches wide.
Problem number two probably isn't actually a problem for the majority of people but our bed is sandwiched between a protruding single door closet and a heater.  We have a grand total of twenty inches on each side of the bed.  Not enough for any standard nightstand.
We finally decided to go with these yellow shelves also from West Elm.  Our only way to bring color into our room is with accessories since we aren't allowed to paint and I think they definitely add a fun pop of color.
And the best part?  When we were browsing West Elm the hubs noticed that our dresser had dropped in price $100.  Since we got it less than 2 weeks ago they refunded us the difference.  Score!